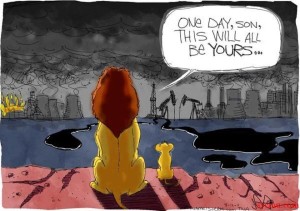 Imagine the Lion King, Mufassa,  today showing his son Simba the world. Today's world. The world that we have made.
This is what he is showing his son today:
What is your reaction to this Lion King reloaded scene?
Below is the original scene. This is the part in the film 'The Lion King' where Mufassa is showing Simba what he will be king of when he grows up. The pride that Mufassa has in showing Simba the land that he will be taking over. I somewhat doubt he would have as much pride in handing this 'new' world over to him. I wonder if Simba's reaction will be the same? Will he say  'I just can't wait to be king'.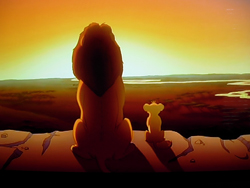 What do you think? Will Simba react with excitement, wonder, intrigue? Or would it be disappointment, fear?
These two scenes show the impact that we are having. The top picture shows what we are giving our future generations. A world of pollution, urbanisation, overcrowding, overpopulation, dirt and destruction. Where has the beautiful natural scene disappeared to?
If  you could choose, which would you choose? Why would you select that particular scenario? What would Mufassa and Simba choose?
I know I have contributed towards the Reloaded scene and I'm doing my best to take steps towards the original again. Creating a world worth handing over to my children. Dojo4Life gives me the tools I need to see what steps I can take, and a safe space to explore these steps with others.