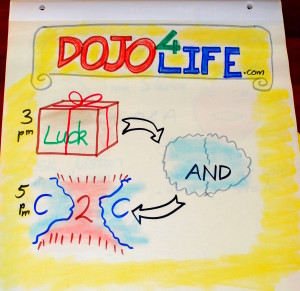 The first Dojo4Life ran successfully on Sunday! Everyone found it useful, from the youngest at 15 up to a couple who can remember their 50th birthday.
Comments included:
Wonderful to be able to speak in a safe environment without being judged

a lot easier

than I thought

it would be

, and a

lot more fun

intense and I was quite exhausted at the end

Left exhausted and energised
 

Three patterns were practised:

Curiosity

And

From complaint to commitment
The group divided into pairs to practice each pattern. One person was the "talker" and the other the "nudger". Then after some time they swapped roles. By holding tight the structure of each pattern, dialogue flowed further, more easily than possible in typical conversations.The tight structure of the patterns also made it easy to switch from one role to the other, and stay in a peer to peer accelerated learning environment.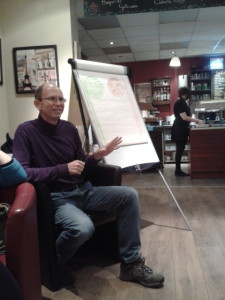 As one person said afterwards "I've enjoyed having someone just listen to me, only asking "And?" which gave me the space to truly explore what I was thinking about."
Many thanks to Carlos and his staff at the Maison to Soleil for making this first trial possible.

Register here to join us for the next Dojo, on February 2nd.